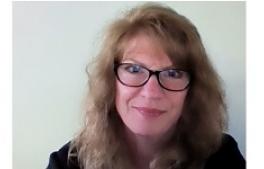 Mary Donovan

Yes
No
Editor
Mary Donovan is the Assistant Dean for Standardized Patients (SPs) & Experiential Learning at Georgetown University School of Medicine in Washington, DC. She delivers clinical learning and assessment curricula through the methodologies of SP/simulation education.  She taught previously at Uniformed Services University of the Health Sciences, and academic-affairs staff at Johns Hopkins Medical School. In the early days of online journal search-and-retrieval, she worked as a researcher at the National Library of Medicine, Library of Congress and others. While in college and beyond, she worked for the University of Virginia Hospital Education system, teaching children with disabilities.
In 2021, students nominated her for the Golden Apple Teaching Award for Doctoring. She presented as a finalist for the IMU-RHIME Award for Innovation (Ottawa Conference, Kuala Lumpur, in 2020) and won of an award for innovation with clinical learners at the international Association for Standardized Patient Educators in 2011.  In 2016, her medical center initiated its "bridge-builder" awards with that honor. From 2016-18 she served as Chair for the U.S. Mid-Atlantic Consortium of medical-school clinical-skills programs. 
She received her BA in English from University of Virginia, MA in Liberal Studies from Georgetown University and MFA in Writing from Vermont College of Fine Arts. She writes a personal blog, picks up her guitar now and then, and maintains her membership in the SAG/AFTRA union for actors.